I was so excited when the new
Lisette
patterns by the same designer as Oliver + S were announced last week that I bought two of them, and I made up a muslin of one today. :-) I picked the Passport dress, which has some very neat darts and tucks and a classic shape to it.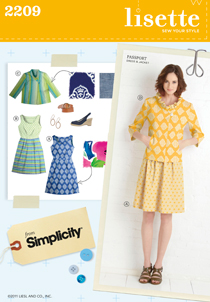 There's a Lisette blog which
has a post which explains the dress and jacket
in this pattern. I thought the dress darts were really neat looking, but I was wondering how difficult they would be to sew. Here's the bodice front pattern piece:
They are actually quite simple to sew, it turns out. I had to make two alterations to the bodice to fit a little better:
The overlapping from the armhole is a quick and dirty proto-SBA, since the muslin was kind of poofy in my upper chest area. Otherwise, it fit quite nicely. I'll be making this up in
a purplish linen blend from the Valori Wells Jenaveve line
.
My raincoat is mostly finished, although I'm likely to go in & add the waist drawstring to shape it. It fits OK, but it would be good to have a little shaping in there. And, of course, it needs me to go into the city with it at some point to have buttonholes made up for it.